New Products Just Arrived, If You Don't see what your looking for Call Us
Audio 2000s Akj7003 Mixing Amp
Audio 2000s Akj7003 Mixing Amp
Akj7003

The Audio2000'S® AKJ7003 system is a truly powerful, yet pleasantly sounded, professional karaoke mixing amplifier. In order to provide a complete mastery on the control of a karaoke joy and karaoke performance, the AKJ7003 is configured with all the essential karaoke features: 16-bit digital key controls, an echo volume control, echo high/low tone controls, an echo repeat adjustment, an echo speed adjustment, a video input/output routing, a powerful amplifier, and smooth vocal sound reinforcement capabilities.
In addition, the music balance/treble/bass controls and microphone treble/bass controls enable the users to master the music and microphone sound in a variety of acoustic environments. A cooling fan is added to effectively remove heat from the AKJ7003. Three microphone inputs on the AKJ7003 are intended to be plentiful for multiple users. Two MIC INSERTs at the rear panel allow the user to add various sound effects to the vocal sound through external sound effectors.
A true 100W + 100W acoustic energy delivery power from the AKJ7003 is carefully engineered to present a high-fidelity direct sound field in a small-room acoustic environment, in a large-room acoustic environment, or in a open performance field.
As a performance extension of the AKJ7403 system, the AKJ7003 enjoys the delicate engineering and the acoustic power of the market-proven AKJ7403 solid performance history. Also, the AKJ7003 inherits the Audio2000'S® product tradition of quality, reliability and versatility.
1

0

0W +

10

0W Max. Power Output (

@

8 Ω)

Three

Unbalanced 1/4"

Microphone Inputs
Master Microphone Volume Control

Two

(

2

) Individual Microphone Volume

\Balance\Echo

Controls
Microphone Tone Control

s

(

Low/Mid/High

)
Master Music Volume Control
Music

Volume,

Balance,

Low, Mid

, and

High

Controls

16-Bit

Digital Key Controller (

±

4

Steps)
Digital Echo Volume/

Low/High/

Delay/Repeat Controls
Music Sound Effector Loop

Two

Stereo Audio Inputs

Two

Video Inputs and Outputs

Three Audio Outputs (Mic/Rec/Line)

Two MIC INSERTS at the rear panel

Banana Speaker Output Jacks
Remote Control
Cooling Fan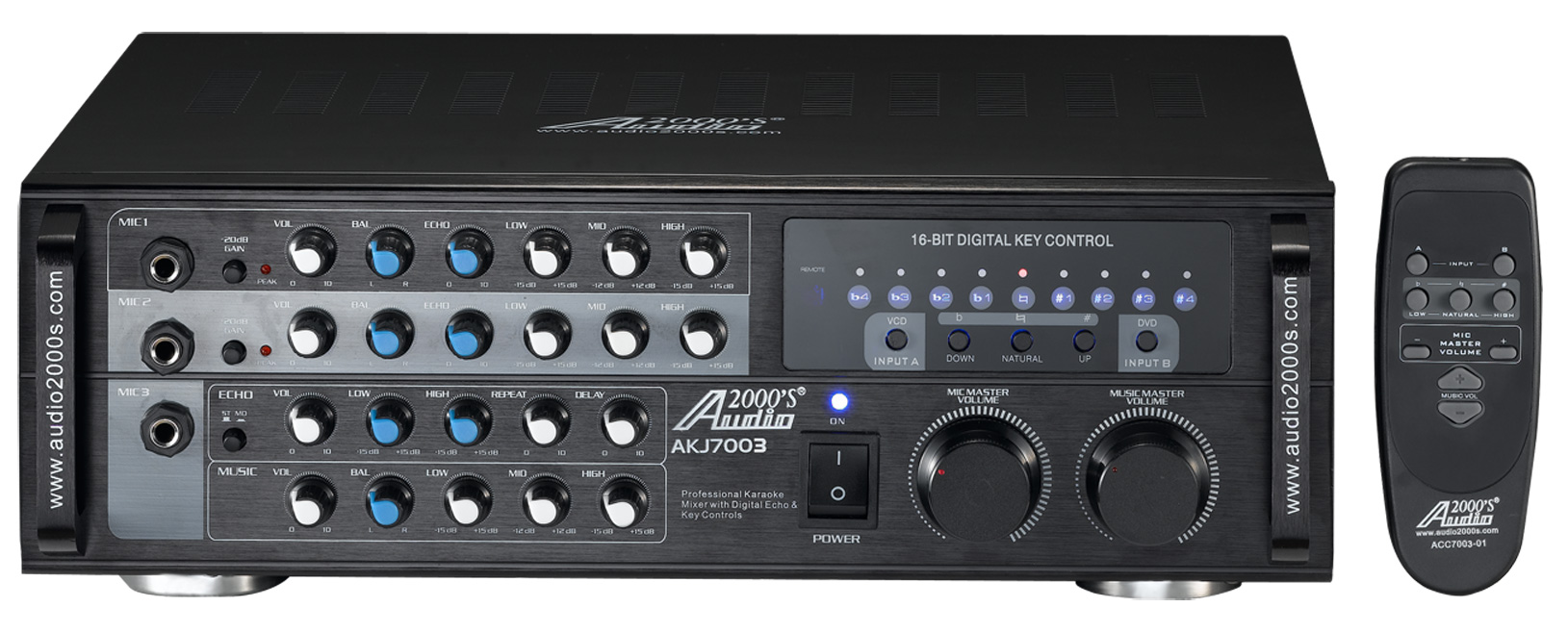 Click here to enlarge the above image.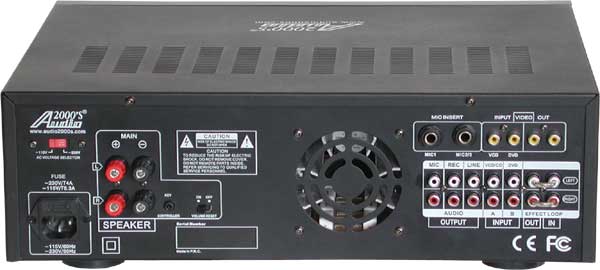 Click here to enlarge the above image.
Max. Output

2

0

0W / 8 Ohms (EIAJ) (

10

0W X

10

0W)
Total Harmonic Distortion
0.03% @ 1KHz, -3dB, 6 Ohms
Mic. Input Sensitivity
6mV / 600 Ohms
Input Sensitivity
300mV / 22 KOhms
Output Level (Pre-Out)
2.5V / 1 KOhms
Mic. Freq. Response
10 - 25,000 Hz
Music Freq. Response
10 - 40,000 Hz
Tone Control Char. (Bass)
+/- 10 dB @ 100 Hz
Tone Control Char. (Treble)
+/- 10 dB @ 10 KHz
Speaker Terminal Load
4 to 16 Ohms
Key Control Range

9

steps, +/-

2

Tones
Video Input Sensitivity
1Vp-p @ 75 Ohms
Video Output Sensitivity
1Vp-p @ 75 Ohms
Power Consumption

400

W
Dimensions (W X H X D)
16.5" X 5.

4

" X 1

4.6

"
Weight

14.3 lbs

Accessories
Remote Control Commander